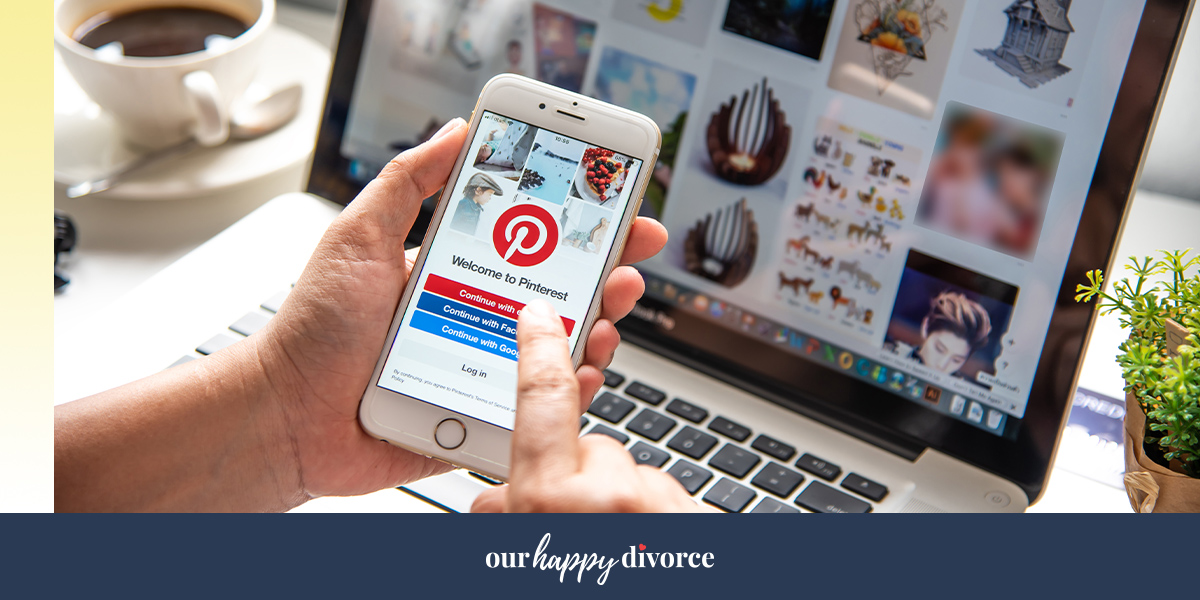 10 Pinterest Boards For A Happy Divorce Inspiration
Our Happy Divorce Thursday, March 5, 2020
Vision boards are really helpful when you're focusing on having a happy divorce and making some divorce resolutions. To get started, think about what a happy divorce means to you, and find images and quotes that resonate with you. Use these boards to remind yourself that your kids are the most important thing, and it's okay to prioritize your own self-care now that you're single.
Thanks to Pinterest, it's easy to create a digital vision board you can take with you wherever you go. You can also keep these boards private in your account if you prefer. Here are a few of our favorite Pinterest boards to help you find happy divorce inspiration. Use these as inspiration and start finding your own sources of inspiration for a happy divorce today. 
After Divorce by Divorce Magazine
With boards for before and during a divorce, too, the After Divorce inspiration board by Divorce Magazine shares information about what to do after your divorce is final. 
Coping With Divorce by The Divorce Magazine
This board shares inspirational quotes and advice that are especially helpful when you are grieving the loss of your marriage. These quotes provide encouragement and give you a fresh perspective on the opportunities that divorce is bringing into your life. 
Dating After Divorce Articles
Wondering where to get started and what works when it comes to dating after divorce? This Dating After Divorce inspiration board shares hundreds of article links that answer any of the questions you have about dating after divorce.
Quotes About Dating After Divorce
Need a fresh perspective on dating after divorce? This board of quotes about dating after divorce gives you quick quotes that can help you understand and embrace dating after divorce.
Advice for Dating After Divorce
Get tons of advice from other people who've started dating after divorce on this Dating After Divorce inspiration board. From the worst mistakes you could make to fun checklists for singles just getting into the dating scene, this board has something for everyone. 
Funny Quotes About Divorce
They say humor is the best medicine. This inspiration board all about divorce humor helps you take a lighter look at divorce. Thousands of followers enjoy this board's quotes and jokes.
Singles Inspiration
Feeling perpetually single? Singles Swag's Single AF inspiration board is full of humorous quotes about the single life. If sarcastic quotes are your thing, check out this board. 
Divorce and Co-Parenting
This inspiration board all about divorce and co-parenting provides helpful articles, quotes and inspirational pictures all about co-parenting. 
Co-Parenting in a Blended Family
This Pinterest board provides some tough love to step-parents and co-parents. Through inspirational quotes and helpful article links to help you form a strong relationship with your step-children and the co-parents in your life. 
Tips for Better Teamwork
Shared by a co-parenting mom who's walking the walk, this co-parenting and divorce inspiration board shares quotes and pictures along with insightful captions.
Identifying your negative attitudes about divorce and re-focusing on what's most important – putting your kids first – can make divorce less traumatic. Creating a
divorce vision board
is a great way to think about your divorce resolutions and keep inspiration close at hand.