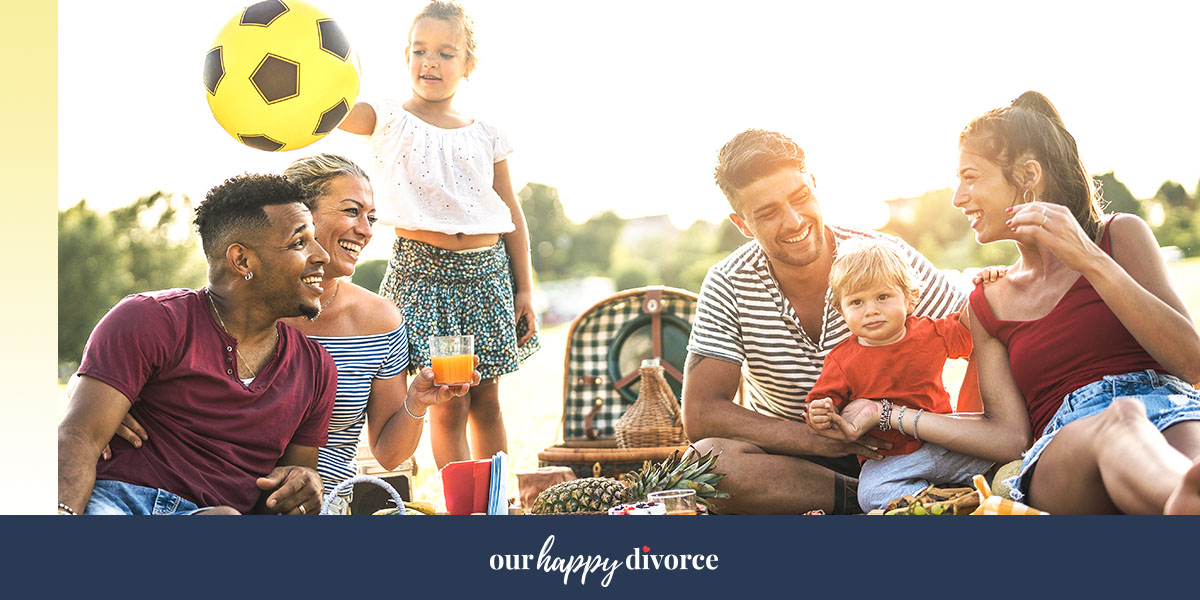 Is Collaborative Divorce the Next Big Thing?
Our Happy Divorce Tuesday, November 12, 2019

If you're facing divorce and generally see eye-to-eye with your partner on most decisions, you may want to consider a different approach. What is a collaborative divorce? 
It's basically a cross between mediation and litigation. It's becoming an increasingly popular approach for couples who want to settle things on their own terms without getting a judge involved. And it's the path the Nikki DeBartolo and Ben Heldfond followed and share in Our Happy Divorce.
How Collaborative Divorce Works
Like mediation, couples in a collaborative divorce agree to work together to resolve any disputes without involving the courts. Instead of working with a neutral, joint mediator, each spouse hires their own divorce attorney. The attorneys provide guidance on legal issues like custody, alimony, real estate and child support, but the final decisions are made by the couple. 
Rather than the drawn-out and painful process of customary divorce proceedings, collaborative divorce is typically a calm, amicable and fairly quick approach.
Each spouse hires their own divorce attorney. 

Both spouses sign a contract, called a "participation agreement," that explains they are committed to using cooperative techniques and not pursuing litigation.

A series of meetings then takes place between the spouses and their attorneys to discuss and settle any disputed issues.

The lawyers draft the final paperwork, so that it can be submitted to the court and signed by a judge. This becomes the final divorce decree. 
Benefits of a Blended Family
There are many reasons to choose a collaborative divorce. In addition to settling on your own terms, it's a great way to lay the groundwork for successful co-parenting. During a collaborative divorce, decisions about custody and child support focus on what's best for the children, not for each individual parent. 
A collaborative divorce tends to be much easier emotionally on each spouse. There's no pressure to go before a judge. And you can rest easy knowing you have a legal expert focused on what's best for you. You're in control of the final terms of the divorce instead of leaving it up to a judge who may not rule in your favor. 


"The collaborative divorce method also meant we [had] more control of the final agreement." ~ Ben Heldfond


Collaborative divorce is a popular option because it allows parents to customize their final divorce decree. In a litigated divorce, a judge can't step outside the state's laws when awarding spousal support or child support, even if the couple wants a different arrangement. Working together is a great first step in rebuilding a relationship with your ex-spouse so that you can move into the next season of life as collaborative co-parents.
3 Myths About Collaborative Divorces
Sometimes collaborative divorce gets a bad reputation among lawyers. Some people think this is because attorneys aren't able to bill as many hours when the couple successfully negotiates the terms of the divorce on their own. There are several myths about collaborative divorce, including:
You have to agree on your own.

In addition to legal counsel, a collaborative divorce often involves financial experts, child custody consultants and psychologists. All of these experts help mediate the divorce. By offering their advice, they can help you and your ex-spouse see eye-to-eye. 

It's difficult.

Because there are several different experts involved, many people assume this type of divorce is difficult. Actually, because the couple is able to rely on these expert opinions it's often easier to reach mutual decisions. 

It's expensive.

A litigated divorce can cost up to $30,000, according to

U.S. News & World Report

. This approach can be significantly less expensive when couples work together to settle their issues. In these cases, lawyers can draft the final agreement and depending on the state's laws, the couple may not even appear in court.
The Trend Toward Collaborative Divorces
Celebrities like Gwyneth Paltrow and Chris Martin paved the way when their "conscious uncoupling" made headlines. Mashonda Tifrere, author of Blend and ex-wife to Swizz Beatz, is actively co-parenting with Alicia Keyes, her son's stepmom. Celebrity co-parents like Jennifer Garner and Ben Affleck, Taye Diggs and Idina Menzel, and Reese Witherspoon and Ryan Phillippe have kept things civil and placed their focus on what's best for their children. 
By choosing a collaborative divorce, couples have more control over how their relationship works in the future. The terms of the divorce can be completely customized to reflect what parents know is best for their kids. A collaborative approach to divorce allows you to advocate for your needs while building a new, parenting-focused relationship with your ex.