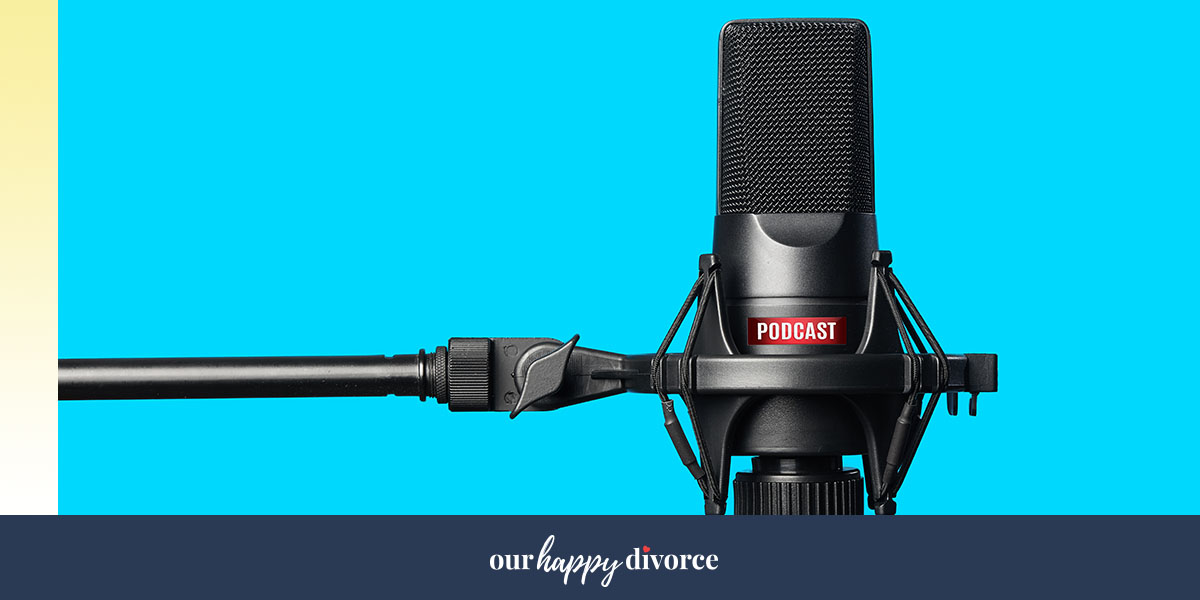 Meet Our Favorite Podcasts That Keep It Real About Divorce
Our Happy Divorce Thursday, December 5, 2019
If you look around, you'll likely realize there are a lot of people in your circles who are divorced or going through a divorce. Building a support system is extremely helpful when you're dealing with the end of your marriage. Sometimes, though, it's helpful to hear some advice from outsiders who have been right where you are and keep it real. That's what makes these our favorite podcasts about finding your happy divorce!
Surviving Divorce: After being divorced for 10 years and being involved in a divorce recovery group, host G.D. Lengacher started this podcast to help others learn what it takes to find a happy divorce. He covers topics like grief, healing, loneliness, anger, parenting, finances, career and more. 
Listen to this episode first: Mother's and Father's Day
Blended Family: From having a happy divorce to managing schedules, mom of four (two biological, two bonus) children Melissa shares what she's learned from parenting a blended family. She shares her own tested tips along with expert advice to help you thrive in a blended family.  
Listen to this episode first: The Struggles of Being a Step-Parent
The Divorce Survival Guide: Hosted by Kate Anthony, a certified coach who helps moms decided whether they should stay in or leave their marriage, this podcast features open, honest conversations about co-parenting, separation and divorce.
Listen to this episode first: Putting Your Kids at the Center – Not the Middle – of Your Divorce
Doing Divorce Right: Follow along with the author, relationship coach and speaker Jennifer Hurvitz as she teaches you how to have a successful marriage or navigate through a divorce. 
Listen to this episode first: Putting Your Kids First While Co-Parenting – Using an App!
Divorce Goddess: The Divorce Goddess herself, divorce mentor and blogger Tosh Brittan shares inspirational, honest and authentic stories to help listeners navigate divorce in quick episodes.
Listen to this episode first: Mediation – Do Divorce Differently



Breakup Boost: Trina Leckie is a breakup and relationship host who shares relationship advice to help you through a divorce, look at your situation with a different perspective and stay positive. 
Listen to this episode first: Talking Divorce with Gabrielle Hartley
The Divorce Sucks! Podcast: Masterminded by popular divorce advice site It's Over Easy, this podcast takes a humorous but helpful approach to explain the ins and outs of modern-day divorce. Chatting with everyone from divorce professionals to athletes and celebrities, the podcast shares everyday stories to help you get through a divorce.
Listen to this episode first: Child Care Experts Laney Downie, Sarah Thigpen, and Marva Soogrim
Blendcredible: A podcast that celebrates blended families, step-dad Tim Watson covers the ins and outs of step-parenting and blending with a family.
Listen to this episode first: The Good, The Bad & The Ugly
Divorce and Other Things You Can Handle: This podcast tackles more than just divorce because it doesn't need to be the defining event in your life. Begin to celebrate your new start by listening to interviews on dating, parenting, and career. 
Listen to this episode first: Legally Divorced
Conversations About Divorce: Through interviews with leading divorce experts, divorce coach and mediator Mandy Walker help listeners move from "we" to "me" with practical and compassionate advice.
Listen to this episode first: How to Best Help Your Kids Understand Divorce
Podcasts are a great place to hear from experts and get advice on whatever stage of divorce you're in. It's helpful to hear from guests with both similar and different experiences from yours. It's also a great way to learn more about the ins and outs of the legal side of divorce so you can work collaboratively with your legal team and your ex to wrap up your divorce and move on to co-parenting.