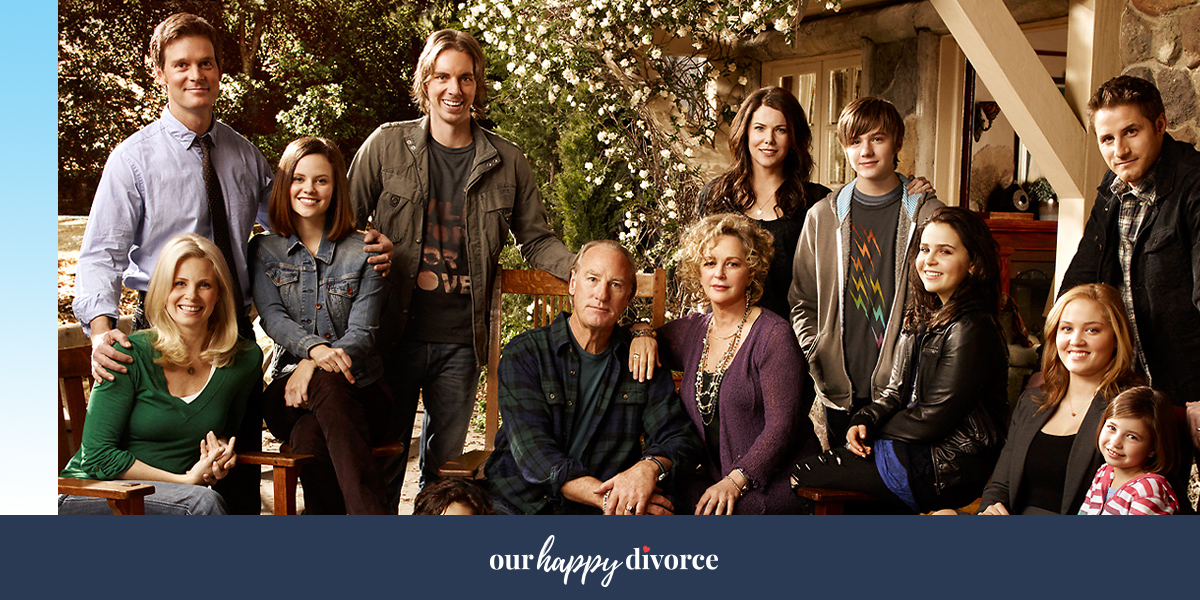 7 TV Shows That Show Positive Co-Parenting
Our Happy Divorce Tuesday, June 2, 2020
Co-parents rejoice! Finally mainstream TV shows are showing positive co-parenting relationships more and more frequently. It's taken a while, and a rocky parenting relationship definitely drives ratings, but co-parenting, blended families and step-parenting are becoming more than just supporting storylines.
These 7 TV shows are great examples of positive co-parenting. If you're looking for your next weekend binge, try one of these and rest assured you're in good co-parenting company.  
Grey's Anatomy
Shonda Rhimes' long-running medical drama Grey's Anatomy has a spiderweb of storylines that cover parenting, custody and divorce. While not all of them are positive (think Callie and Arizona's custody battle in Season 12), the show does provide co-parents with a few examples worth following.
Doctors April Kepner and Jessie Avery separated before their daughter Harriet was born. Despite some bumps, the couple is portrayed as positive co-parents. Due to their demanding schedules, they lean on each other for parenting support and are often shown transferring Harriet back and forth in a positive, collaborative way. Jackson is shown as having equal parenting time, and even though both parents are busy physicians, they took a page from Derek and Meredith's book and made it work for Harriet's sake. 
Splitting Up Together
This sitcom is all about a couple navigating life after divorce, instead of focusing on the breakdown of the relationship. The show's star, Jenna Fischer, says "It's a show about relationships and parenting and trying to build a life with another person, whether you are divorced from that person or with that person."
The show also introduces the concept of "bird-nesting," where the kids live full-time in one house and the parents rotate in and out according to the custody schedule. This type of arrangement has definite pros and cons, and it may not be the right custody schedule for your family but you may pick up some helpful tips. 
Grace & Frankie
Often, co-parenting in a blended family means working with your ex's new spouse. This is exactly the case in Netflix's over-the-hill comedy Grace and Frankie. The namesake characters find out their husbands are leaving them, for each other, and are thrown into an unlikely partnership as they work on forgiving their exes. 
Grace and Frankie's grown children bring different parenting perspectives to the show – one is an overwhelmed mother while the other doesn't want anything to do with children – but Grace and Frankie find themselves bonding over these difficult parenting decisions. This is a great example of being a step-parent your kids will love and adore, and also how to find a parenting ally in your ex's new spouse.  
Parenthood
Parenthood tells the complicated family stories of the Bravermans. This multi-generational drama deals with teenagers, single parenting, dating after divorce and relationships with aging parents. As Julia and Joel were forced to swap roles in their marriage, they began to grow apart and eventually had to figure out their new roles in co-parenting. The show also explored the effects of divorce on Sarah Braverman's teenage children. 
One of the best parenting lessons from Parenthood is that no matter what happens, coming together to celebrate and support each other is the best choice. Blended families may find using similar traditions helpful, like family dinners or attending sporting events together.
More Shows with Positive Co-Parenting Messages
This is Us

: No spoilers here, but the Pearson triplets do have to deal with a step-parent and we see their relationships evolve as they grow into adults. 
Nashville

shows a blended family whose kids have to deal with some ups and downs, but ultimately their parents put them first and they triumph.
Fuller House

takes the classic sitcom into the modern era and explores dating with kids and step-parenting.
Today's "modern families" are embracing more and more positive examples of co-parenting across their TV screens. Instead of always being portrayed as an extremely negative and hurtful situation, divorce is now regarded with both humor and respect. These TV shows can help you start important conversations with your kids and help them understand that their experiences and feelings are all completely normal.